Click on

Hatfields & McCoys Museum

above
Fred is the son of Bobby and Cora McCoy
the Grandson of Phillip and Ella Jane McCoy
the Great Grandson of Nancy (Hatfield) McCoy & Asa McCoy
the GG Grandson of the famous "Preacher" Anse Hatfield
the GG Grandson of Uriah and "Aunt" Betty McCoy
the GG Nephew of Randall and Sarah McCoy
the GG Nephew of Sheriff Basil Hatfield, "Bad" Elias Hatfield & Constable Floyd Hatfield.
the GG first cousin to the Famous Feud Leader "Devil" Anse Hatfield.
To give a little history:
Nancy Hatfield was the daughter of "Preacher" Anse and Polly Hatfield who lived in the cabin at the foot of Blackberry mountain. Fred's grandfather Phillip was born in the cabin where the replica stands today. "Preacher" Anse Hatfield presided over the famous Pig Trial of 1878, he was also the first cousin to "Devil" Anse Hatfield. Asa McCoy and Nancy Hatfield my G Grandparents were married in 1875 just three years prior to the Pig Trial.
Asa McCoy was the son of Uriah and "Aunt" Betty McCoy, Uriah was the first cousin to Randall McCoy and the brother to Randall's wife Sarah or (Sally) McCoy. So not only were Randall and Uriah first cousins they were also brother n laws. Randall and Uriah both served in the Confederate Army the VSL and the 45th, both served with "Devil" Anse Hatfield before he deserted and they were taken POW's.
"Aunt" Betty (Rutherford) Uriah's wife, was my GG Grandmother on the McCoy side, she is famous for being the one who took Roseanna McCoy in after she became pregnant. In fact, Roseanna named her baby after her mother Sarah and my gg Grandmother Elizabeth, (Sarah Elizabeth)
As for my gg Uncles, Sheriff Basil Hatfield, "Bad" Elias Hatfield & Constable Floyd Hatfield they were all very much involved with the Famous Feud. Probably best known would be "Bad" Elias Hatfield as he was the one involved in the first fight at the Blackberry election ground. He's the one who owed money to Tolbert McCoy for a fiddle.
My Pedigree/DNA just goes and goes but this is the just of it. Since I was a child I have always been fascinated by the feud and those involved in it. Over the last one-half Century, I have collected anything I could for my collection. After marring Shelia over 33 years ago researching the Hatfield and McCoy Feud and collecting artifacts also became her hobby. Over the last few years' people have encouraged us to share our collection, we hope you enjoy viewing it as much as we have collecting it.
| | | |
| --- | --- | --- |
| | This case of Pig Stealing took place in 1867, In this case Asa P. McCoy charged the four men listed and the Judge found them guilty and they were ordered to pay for the pigs they stole. Notice: Ellison Hatfield, this is the same Hatfield that would later in 1882 be fatally wounded in a fight with the McCoys at the Blackberry Election grounds across from my GG grandfathers cabin, where the famous Pig Trail was held in 1878. The famous Pig Trail where Randall McCoy charged Floyd Hatfield, (son of John) with stealing his pig. My GG Grandfather Justice of the Peace Preacher Anderson Hatfield was the Kentucky Judge who presided over that trial. Preacher Anse and Polly Hatfields daughter Nancy Hatfield had married my G grandfather Asa McCoy only three years prior in Sept.1875. Asa was the son of Uriah and Elizabeth "Aunt" Betty" McCoy. | Asa P. McCoy on far left, 1867 Pike County Court Document on right. |
| | | |
| --- | --- | --- |
| Author and History Channel Historian Altina Waller says, Ellision Hatfield was a War Hero and served at the Battle Of Gettysburg, Just not so, just like so much false information over the years, just another statement written into history. First, Ellison Hatfield served in the 45th along with Devil Anse Hatfield, Randall and Uriah McCoy, the 45th never served at Gettysburg and Second, even if the 45th Batt. had fought at Gettysburg, Ellison Hatfield would not have been there as he deserted like his older brother Devil Anse. (Records do not Lie) nothing beats good physical evidence to prove or disprove a point. | Deserter since Dec. 19th | Devil Anse Hatfield height 5'6" tall yet over the years every movie, every cartoon always have Devil Anse Hatfield the taller ot the two men, when in actuality Randall McCoy was 6'0 tall according to his Civil War papers. Also notice on Devil Anse's paper "Rebel Deserter" |
| | | |
| --- | --- | --- |
| All through the years one author has copied another authors story instead of doing their own research and because of that there is a common saying related to Devil Anse, there are even Book titles "Six Foot of the Devil and 180 pounds of Hell". Devil Anse may very well have been 180 pounds of hell, but on every Civil War record in existence related to Devil Anse they state the same as this one. He was actually 5'6" tall. | In almost every Hatfield and McCoy Book you'll see this picture, and when you see this picture and the author says this is the three McCoy Boys who were tied to the Paw Paw tress in 1882 and killed close that book and move on because that author doesn't know anything about the Famous Feud. First there are no pictures of the slain McCoy Boys. The picture above is actually hanging in the Wyatt Earp, OK Corral Museum in Tombstone, Arizona. These three characters are actually Tom and Frank McClary and Billy Clanton from the OK Corral shootout that took place the year before the McCoy boys were assassinated. The OK Corral gun fight took place in 1881, the Paw Paw Tree murders took place in Aug. 1882. The guys in the photo still have their clothes on, when Devil Anse took the three McCoy boys from W.V back to Kentucky he had them strip down naked as the day they were born, he told them, "you came into this world naked you'll go out the same way." Not only were they naked, but the youngest boy and name sake for his father 15-year-old Randall Jr's entire head was shot off. Which helped to set the pace and reputation as Americas Bloodies Feud. Remember only twelve people were killed in the Famous Feud however, they were are over killed to make an impression of the hatred and hostility each family had for the other. | another Hatfield and McCoy book with this picture on it's pages, This book states the piture is in the collection of the Kentucky Historical Society. |
| | | |
| --- | --- | --- |
| Everyone always ask, "how did the Feud Start?" Pig Stealing, Love Affair, Moonshine while all these were contributing factors and helped to escalate the hostility, the Feud was a result of the Civil War. Over the years there has been numerous stories and books written about the Hatfield and McCoy Feud. A famous author and even proclaimed History Channel's Historian Altina Waller says in her book, Devil Anse Hatfield was a Confederate and Randall McCoy was a Union soldier. That is incorrect, both Devil Anse Hatfield and Randall McCoy were both Confederate Soldiers, as was my GG grandfather Uriah McCoy who served with both. | | |
Very interesting picture board here, all through the years many have been embarrassed by the fact that ol Devil Anse was a narcissist. The picture on the top left is an actual copy of Life Magazine dated May 22nd, 1944. In this copy Life sent a reporter to the mountains of Eastern Kentucky and Southern W.V. to do a story on the famous Hatfield and McCoy Feud.
The two pictures in the center of course is Devil Anse Hatfield and his famous life size monument. The photo to the top far right is that of Devil Anse's grown son, Joe Hatfield. Joe told the Life magazine reporter when he was a young boy he watched as his father (Devil Anse) pulled that monument of himself up the mountain by mules, to a place he picked out to be buried at.
The two documents to the far left middle and far left bottom are actually documents that were submitted to the Dept. Of Interior in Washington D.C. in 1978 requesting to have the Hatfield Family Cemetery declared a Historical Sight. In these two documents were listed several mistruths.
The document says that Devil Anse children bought the monument in 1926 and placed it on Devil Anse's grave. Devil Anse Hatfield died in Jan. 1921 notice the picture in the middle ref several people gathered together at the Hatfield Cemetery for Devil Anse's Funeral. Now read this paragraph again, monument was place on grave by his children in 1926, yet he died in 1921 and look what's in the background. (After we brought this out in our first edition of Monument for a Murderer, we were contacted and told that was actually the dedication of the Monument in 1926. OH! We said, so all those people in other pictures actually dressed up in the exact same clothes they had worn five years early to dedicate the monument, even Levicy had worn the very same clothes and carried the very same purse she did five years earlier to her husbands funeral. OK we said let us continue to investigate this unusual event.
Which brings us to the bottom middle picture and the bottom far right picture. The bottom middle picture shows the grave of Devil Anse Hatfield app fourteen months after he had been buried, next to Devil Anses grave is a freshly dug and covered grave of his oldest son Johnse Hatfield (the lover of Roseanna McCoy) Johnse died fourteen months after his father victim of a heart attack. His date of death was April 1922, the picture bottom far right shows people actually standing on Devil Anse's grave and looking at the freshly covered grave of Johnse Hatfield (see what's in the background, you see it, the big white thing. Not 1926 as the document files in 1978 says but 1921 and 1922, truth is as bad as some want to admit it Devil Anse was so struck on himself, so embarrassed of being a deserter and so desiring to be famous he ordered and set a monument on the place he was to be buried at. The picture at top right shows Johnse Hatfields monument off to the right of his fathers his monument was actually placed on his grave after he died.
Just to cap things off, the little gray picture beside of the monument is actually the Word Capt. inscribed on his monument. He wanted it to appear he was not only a war hero but a Capt. 1st a person could not hold the rank of Capt. in the Confederate Army and not be able to read or write, reason was they didn't have radios and telephones all correspondents was done by writing orders from one unit or company to another. And second Devil Anse deserted less than six months into his enlistment so he was barely there long enough to get a uniform much less obtain the rank of Capt.

Lastly, the paper in the middle far right is the bill for Devil Anse's funeral. Back to the two documents on the far left one states that Devil Anse paid $2000.00 for his casket alone, yet the total be for his casket, Ice, little shaving etc. was $495.00 paid in full by Tennis Hatfield his son.
The moral of the story is we can write anything we want, we can put up the biggest monument on the grave yard but it doesn't change who we were and what we did when we were alive.
Mayday, this is the Le Conte
Hauntmasters Final Review
McCoy's Firearms Training
"Carrying Concealed 101"
People across America are seeing how our society is changing. Many are deciding to carry concealed to better protect themselves and their families, as a police officer of almost four decades and an Elementary School Educator of almost three decades, we don't blame them. Being a direct descendant of both the Famous Feuding Hatfield and McCoy families, who would know better about Guns, or the use and misuse of deadly force?
For the Beginner – Intermediate Shooter
This Book Could Save Your Life, and save you a lot of trouble if ever forced to take a life.
By: Fred & Shelia McCoy
Are you interested in carrying a handgun for self-defense, but don't know where to start? your complete guide to the world of concealed carry are between the covers of our book, titled McCoy's Firearms Training "Carry Concealed 101"
This book is an encyclopedia of information, a reference manual that will come in handy throughout your carrying concealed lifetime. Every person who owns a gun much less carries on a regular basis should read it.
You will discover things that just might save your life one day, if not at least give you peace of mind by knowing what to say or not say after you have been forced to defend yourself by using your gun and deadly force. The contents of this book will answer questions that you haven't thought about, eliminate all your fears about handguns and self-defense, know your rights.
Read what every gun carrying person should know. Avoid the mistakes made by others, learn from their mistakes. If you are contemplating buying your first handgun? No matter Concealed Carry, Home Defense, know the Firearm Fundamentals, this book covers it all. A comprehensive guide for anyone who owns or carry's a gun.
The legal aspects of using deadly force. Reveals concealed carry secrets most will never know, how to choose the perfect concealed carry gun that best suits you. How to find the right holster. Ladies this is the book for you, if you choose to carry a handgun for self-defense, purchasing your first pistol, how to clean and shoot it. Concealed Carry and Personal Defense for Women, a must read for women that are considering firearms for self-defense. The authors' write in layman's terms that any first-time gun owner can easily understand.
How to choose the best concealed carry gun for you. The McCoy's have dedicated their lives to teaching others how to responsibly handle, carry and shoot a handgun. A lot of useful information is packed within the pages of this book, both for the new gun owner as well as for the seasoned carrier. We want to share our experiences as it pertains to the topics of safety, shooting technique, legal aspects, and much more. The aftermath of a lethal force confrontation. Fred McCoy says the writing is clear, concise, and packed with obvious signs of many years of experience in law enforcement relating to "fight or flight" situations. As well as being a female concealed carry instructor and woman carrier. The benefits Shelia McCoy, shares with other women pertaining to conceal carry is priceless. Shelia has probably taught more women to shoot than any other female Carry Concealed instructor in Kentucky. She has been teaching women since the early eighties. She was also one of the first women to become trained and certified to teach the Carry Concealed Deadly Weapon Course in Kentucky when passed and became law in 1996.
send $19.99 plus $5.00 S&H to:
McCoy's Firearms Training
7370 Danville Street-Pike
Hustonville, Kentucky 40437
Cookbook- $19.99 plus $3.00 S&H/taxes total of: $22.99
To order your Hatfield and McCoy Cookbook by: Shelia McCoy and Ella McCoy Schuler, send check for $22.99 to:
7370 Danville Street-Pike
Hustonville, Kentucky 40437
********************************************
********************************************
$19.99 plus $3.00 S&H for total of $22.99
http://wunc.org/post/next-chapter-hatfield-mccoy-saga#stream/0
The story Darrell Fetty one of the Producers of the Famous "Hatfield and McCoy" Mini-Series on the History's Channel and Reo Hatfield have been telling for many years.
Contact Information for the Authors/Investigators
Fred & Shelia McCoy
606-346-2198 home
www.fredmccoy.com
Good Example of how all the stories got started about the Hatfields and McCoys over the years. What a couple of liers these two are, read and listen for yourself then read our book for the truth. How sad that someone wants their 15 minutes of fame so bad that they destroy another persons reputation to get it. Darrell Fetty and Reo Hatfield have been telling these stories for years.
(You must copy and paste the links below to see them)
(Titled) War and Peace on the Big Sandy River
In 1947, decades after the last gun was fired, the feud almost started up again. This time Reo's grandfather, Allen Hatfield, the chief of police of Matewan, West Virginia, was to blame. "When he went with another officer to raid a bawdy house, an angry patron grabbed the gun of the other officer and shot Hatfield twice in the back. 'My grandfather turned and shot him dead', says Reo.
The man happened to be a McCoy."
***************************************************************
The Herald Dispatch- This Story was about Darrell Fetty, One of the Producer for the History Channels Hatfield and McCoys Mini-Series.
Tri-State native helms his historical production of Hatfield-McCoy Feud
Fetty: The first reason I was pulled in was personal. My first wife, Huntington native Carolyne McCoy, was related to both families. Her mother was a Hatfield and her father was a McCoy. Both were direct descendants of the original feuding clans. I spent some time with Carolyne's grandfather, Allen Hatfield, who had been a police chief in Matewan in his younger days.
"One day in the late 1940s (1947), Allen had a confrontation with a McCoy boy. He was going to arrest the McCoy for public drunkenness, but this kid had a 22 pistol and started shooting at Allen as he was coming up the steps of a hotel where the guy had run in to. Old Man Hatfield just kept coming after him like John Wayne, got to the top of the stairs, jerked the gun away and took the drunk young McCoy to jail".
"Allen had been shot three times with this little pistol". Because this guy was a Hatfield, the New York Times sent a reporter down to the backwoods to get some juice on the feud story again. "When I knew Allen Hatfield, he was in his 80s and still had bullets in him from that little brush up. Now that is a tough man. That is John Wayne in real life"
"Allen Hatfield was alot of things but John Wayne was not one of them, Fred & Shelia McCoy
*************************************************************
Phoebe Judge (Listen for yourself)
(Titled) The Next Chapter In The Hatfield-McCoy Saga, September 9, 2015 on North Carolina WUNC Radio
Phoebe Judge talked with book author Ron McCoy, and with Reo Hatfield
Reader: please google the link below and listen live to Mr. Reo Hatfield II as he describes what happened between his grandfather Police Chief Allen Hatfield and Hubert "Bay" McCoy in 1947 then read the rest of our book for the truth.
At 6 minutes and 43 sec on the timer Mr. Reo Hatfield II States: "My Grandfather was the Chief of Police in Matewan, W.V. he had a raid on an illegal operation in the City and the gentleman there took the gun of another police officer and shot my grandfather three times in the back my grandfather turned and shot and killed him and later they found out that the person he'd killed was a McCoy so it was in the line of duty from his police dept…
(Reo) continues with basically the same story he has told for years and years sometimes Reo will say his grandfather was shot twice and other times he says three times.
Ms. Judge asked a brilliant question about bullets but Reo quickly changed subject on her to throw her off. How valuable three bullets would be taken from a Hatfield shot by McCoy?
*********************************************
*********************************************
Another Hatfield and McCoy Collector's Item
52 Poker Playing Cards with the two Feud Leaders one the back of each card and a different feud related person, place or thing located on the face of every card.
Guess who is on the Ace of Heart? or whos on the Jokers, and the King and Queens
Buy @fredmccoy.com for $19.99 plus Shipping, Handling and taxes
send ck or money order for $22.99 to:
7370 Danville Street-Pike
Hustonville, Kentucky 40437
******************************************
******************************************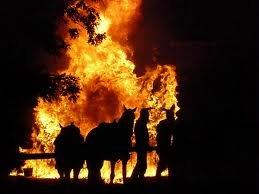 Back Cover of book
*********************************************
*********************************************
1st and 2nd Editions of Fred and Shelia's "Monumnet for a Murderer" is sold out and is now a collectors items as it will never be re-printed. If you want to order their "Monument for a Murderer" 3rd Edition go to the link titled 3rd Edition below. This is the largest Hatfield and McCoy book to ever have been printed, with the most pictures and official court documents, consisting of almost 800 pages.
Monument for Murderer "SOLD OUT"
Our books are nothing like the History Channels Version, but what would we know ?
"It was only our ancestor's"
Just like the 1st and 2nd Editions of "Monument for a Murderer" the 3rd edition of these books are sure to be collectors
items as they will only be available for limited time.
First books ever authored by descendants of both the Hatfields and McCoys
"Limited" number of books to be sold.
Your book will be signed by both authors
(3rd Edition) "Monument for a Murderer"
Books are now available Limited Time Only, consisting of 779 pages of action packed information as well as hundreds of pictures and documents. If you are a serious Hatfield and McCoy Collector this is a must have book.
Books will Sale for $49.99 ea. plus $5.00 for S&H plus $1.80 tax, Send check or Money Order for $56.79 to address below) Books will be mailed in the order in which they were received. When these books are gone there gone.
Address:
7370 Danville, Street-Pike
Hatfields and McCoys
Monument for a Murderer
By Fred and Shelia McCoy
Limited Collector's Edition!
Authors Fred and Shelia McCoy reveals the dark side of Devil Anse Hatfield during the feuding years. A Monument for a Murderer is a book about good vs evil, myth vs fact and life vs death. It is a book about the Hatfield McCoy Feud that will be hard to put down without reading it from cover to cover. Fred McCoy's 38 plus years in law enforcement helps in his investigation for the crimes committed against the McCoys and the instigator behind them.
Fred is a direct descendant of both the Hatfields and McCoys
Over the years the McCoy's have remained silent. To the best of our knowledge there has never been a book written by direct Hatfield and McCoy descendants.
This book will change that. By our McCoy ancestors not telling their story we have too.
Over the years it seems people have been paying tribute to a man whose nickname best described his character.
It's time to tell the truth, it's time to set the record straight, it's time to correct the myths, and it's time to pass on what we were told.
Inside the covers of this book are some of the answers to over a hundred forty years of questions.
No disrespect meant to either family. I carry both Hatfield and McCoy blood.
*******************************************
*******************************************
The first and "ONLY Hatfield and McCoy Feud book" to ever be written (Jointly) by direct Hatfield and McCoy descendants, sure to be a collector's item after we're dead and gone of course.
Sometimes the TRUTH hurts!!!!!

The photos are the actual front and back covers of our book. Even though the book has many interesting stories and pictures we feel the most interesting Chapter is titled, "Dissecting other Stories and Books".
For those authors who have printed so many untruths and disseminated incorrect information about the feud, we have dissected their books and the stories they have told as well as challenged the false and fabricated information they have "Written into History" with the stroke of a pen.
With over half a century of combined Law Enforcement experience in our backgrounds we have critiqued many of the Hatfield and McCoy books of the past, especially those who have labeled their books as "The Truth", "The Real Story" and even "Rescuing History".
Our book is $26.99 plus $5.00 for taxes/S&H. You can mail checks or money orders to the address below:
Paul Hatfield or
Fred McCoy
7370 Danville Street-Pike
Hustonville, Ky. 40437
Just as a teaser, you will never look at some of the other Hatfield and McCoy Books the same after reading our book.
The first books we sell will be autographed by both Paul Hatfield and Fred McCoy they will no doubt be a serious collector's item of any Hatfield and McCoy memorabilia collector in the future. After the first books are sold the only way to receive an autographed copy will be to purchase a book at a in person book signing.
**************************************************************************
The original Hatfield and McCoy Candle maker, Shelia has being making Hatfield and McCoy Candles way before the History Channel ever thought of making a movie about our families.
extra shipping may be required on candles!
**********************************************
**********************************************
Hatfield and McCoy Pickled Corn
made by Shelia McCoy using the famous Hatfield and McCoy secret recipe.
$14.99 Jar
You can find candles and corn at cheaper prices, but they won't be Hatfield and McCoy.
*************************************************************************************
| | |
| --- | --- |
| www.barrymccoy.com | |
All shipping prices are in United States only
*********************************************
*********************************************
Shipping Policy
No orders are shipped on Saturday, Sunday or Holidays. All shipping is via carrier of our choosing. (USPS) No refunds on any and all shipping charges or service charges there are absolutely no exceptions
Return Policy
No Returns unless book was damaged in shipping and is returned within 5 working days. Then a replacement will be sent to you customer is responsible for return shipping fee. No Cash Refunds. All sales are final. All Returned damaged in transit books only replaced with new book. There are absolutely no exceptions. You agree upon replacement of your order with us that on the replacement book you will pay shipping and ins.
All Shipping Charges are NON-Refundable. No Refunds on any orders past 5 days from date received.. No refunds without prior Authorization call 606-346-2198 or e-mail hustpd@earthlink.net
Return Procedure
No Returns unless damaged in transit. Then only replaced with a new book. There are absolutely no exceptions.
You agree upon placement of your book to pay All Shipping Charges. S&H are NON-Refundable. No Refunds on any orders past 5 days from the date you received book. No refunds without prior Authorization call 606-346-2198 or e-mail hustpd@earthlink.net
Secure Online Ordering
Shopping Is Safe
Privacy Policy
We recognize and respects how important personal privacy is to you. Because your privacy is important to us, we operate under the guiding principle that we will not release your personal information to any unaffiliated party.
Your personal information is the information specific to you that you provide us. This includes the information you enter into an online secure orders or questions you ask via e-mail.
Need Help?
Please feel free to call us Monday thru Friday from 9 AM to 5 PM EST at call 606-346-2198 or e-mail hustpd@earthlink.net
Product Pricing
- All books are $19.99 (plus taxes and S&H) $5.00-total $24.99
Mailing Address
-7370 Danville Street, Hustonville, Kentucky 40437
Contact Information-
Call 606-346-2198 or e-mail hustpd@earthlink.net
XXXXXXXXXXXXXXXXXXXXXXXXXXXXXXXXXXX
McCoy's Firearms Training
606-346-2198

We don't care where you take your training or who you receive certification from, (just do it!) if you don't have the $75.00 cash for the training we will work with you on about anything of equal value. Must call to enroll for class as we are limited to 10 to a class. 606-346-2198 leave message we'll call you back.

Special Class when there's (2 pre-paid) or more enrolled, will have a special class anytime you want, but must have (2) people enrolled
(CCDW) Gun Permit
Kentucky Gun Permit Class Training

Anyone interested in taking the required Training in order to obtain your Ky. Gun Permit?
NEXT CLASS is: whenever you want and have 2 people.
Price: $50.00 instructor fee, $25.00 required Dept of Criminal Justice fee.
Contact: Fred McCoy, or Shelia Stanley McCoy @606-346-2198
Home Invasions, Burglaries, Robberies, Assaults, and Thefts the list goes on and on and of course the Police can't be everywhere and seem to never be around when you need us.
The State of Kentucky has given you the opportunity to obtain a permit to carry a concealed weapon on or about your persons after meeting certain requirements, one of which is complete a gun safety course taught by a Certified (CCDW) Instructor.
Hopefully, you will never need your weapon, but as economic times become more difficult the chances of you been robbed or victimize is even more likely.
Our saying is it's better to have a gun and not need it, as to need a gun and not have it.
Fred McCoy-Instructor/Trainer, 38 year veteran Police Officer, and Former Marine, 33 year Certified Police Firearms Instructor and Certified C.C.D.W. Instructor and Trainer of other instructors since law passed in 1996
Shelia McCoy-20 year Certified C.C.D.W. Instructor and Women's Firearms Instructor. Who assist with all women applicants training?
Two Kentucky Dept. of Criminal Justice Training Certified Instructors for the price of one.
For more information: click link below
http://www.fredmccoy.com
When you leave our class you can rest assured you have completed the course, the way the State and Dept. of Criminal Justice Training meant for it to be taught.

2 or more and we will hold a class anytime you want.

When Seconds Count, The Cops Are Just Minutes Away!!

Remember! If you don't have the $75.00 cash for the training we will work with you on about anything of equal value. If you have something more valuable than the price of the class we'll pay you difference if it's something we can trade on or want. If you want to trade something for three or four classes that's also possible, never know till you ask, our goal is to see everyone who wants a (CCDW) "Gun Permit" have one. Guns, antiques, Display cases, curio cabinets, civil war memorabilia.
#################################################
Kentucky Gun Permit Class

CCDW- PERMIT

CLASS DATES FOR 2016


ALL IN ONE DAY
" Call to Enroll"

Fred and Shelia McCoy

Dept. of Criminal Justice Training Certified Instructors
McCoy's Firearms Training
7370 Danville Street
Hustonville, Ky 40437

606-346-2198

CLASS DOORS OPEN @ 0830 A.M.
CLASS STARTS @ 9:00 A.M.

Must call to enroll



$75.00



(CCDW) Gun Permit
Kentucky Gun Permit Class Training

Home Invasions, Burglaries, Robberies, Assaults, Thefts the list go's on and on and of course the Police can't be everywhere and seem to never be around when you need us.

The State of Kentucky has given you the opportunity to obtain a permit to carry a concealed weapon on or about your persons after meeting certain requirements, one of which is complete a gun safety course taught by a Certified (CCDW) Instructor.
Hopefully you will never need your weapon, but as economic times become more difficult the chances of you been robbed or victimize is even more likely.

Our saying is it's better to have a gun and not need it, as to need a gun and not have it.
Fred McCoy-Instructor/Trainer, 37 year veteran Police Officer, and Former Marine , 32 year Certified Police Firearms Instructor and Certified C.C.D.W. Instructor and Trainer of other instructors since law passed in 1996

Shelia McCoy- 19 year Certified (CCDW) Instructor and Women's Firearms Instructor. Who assist with all women applicants